ON BRESCIA
Brescia is a city of around 200,000 inhabitants, located in the region of Lumbardy, North Italy, between Milan and Verona. It is the second largest city in Lumbardy after Milan, and it is the administrative capital of a Province with around 900,000 inhabitants.
Brescia's history ranges from pre-historic times to the modern day. Under the Roman Empire the town became one of the main Cisalpine cities and took on growing importance as a trading and manufacturing centre. During the Middle Age and the Renaissance time Brescia enjoyed a period of intense development. In 1426, it became part of the Venetian Republic. This would not change, with the exception of short intervals, for four centuries. After Napoleon's fall, Brescia passed under the Austro-Hungarian Empire rule. It was annexed to the Kingdom of Italy only in 1859. Thanks to a famous poem by Giosuè Carducci, in Italy Brescia is known under the nickname of "The Lioness of Italy", because its citizens showed their mettle during the so-called "Ten Days Insurrection" in the 18th century.
<![if !vml]>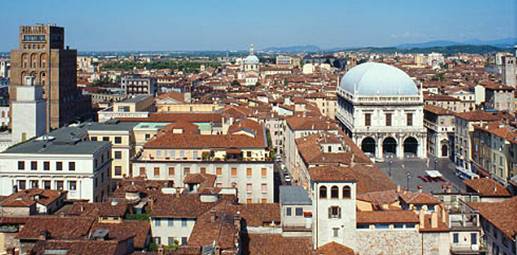 <![endif]>
Bird's Eye View on Brescia
Thanks to its long history, Brescia offers a range of architectural, artistic and cultural gems. In the heart of the city one can spend time visiting the numerous museums, art galleries and exhibitions in between stopping off in one of the many cafés and restaurants which offer a vast range of cuisine from local to international. Shoppers, theatre visitors and music lovers of all types will find something to satisfy their needs.
<![if !vml]>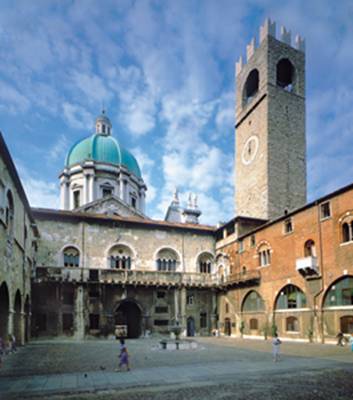 <![endif]>
A Historical Corner
<![if !vml]>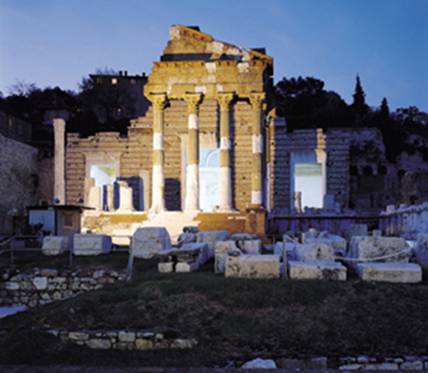 <![endif]>
The Ruins of the Roman Forum
The province, on the other hand, offers a diverse range of natural beauty: from the rolling hills of the wine growing region of Franciacorta, to the snow capped mountains of the lower Alps, from the stunning scenery of Lakes Garda, Iseo and Idro to the idyllic mountain villages spotted throughout the Brescia valleys. It is genuinely a region which has something to offer to every type of tourist whether they are in search of nature and relaxation, culture and gastronomy or sporting activities of every kind.
Starting from Brescia, both day-long and weekend-long trips to Verona (40 minutes by train) and Venice (2 hours by train) are also easy to organise.
Tourism information:
Enjoy a wine tour in Franciacorta, or in the famous Brescia valleys: http://www.bresciatourism.it/
30 minutes from Brescia and you can enjoy a tour on Garda lake: http://www.lagodigarda.it/
30 minutes from Brescia and you can enjoy a tour on Iseo lake and on Monteisola (the biggest lake island of Europe!):
http://www.lagoiseo.it/inglese/lake_iseo.htm
40 minutes by train and you can enjoy a day or a week end in Verona, the romantic city of Romeo & Juliet: http://www.tourism.verona.it/_vti_g1_1.aspx
2 hours by train and you can enjoy a marvelous day or a week end in Venice: www.comune.venezia.it/
---
Fifth European Social Simulation Association Conference, University of Brescia, 1-5 September 2008